How to Pack Your RV for Camping
HOW TO PACK YOUR RV FOR CAMPING 
Written By Carol Carimi Acutt
Camping these days is considered to be pretty hip, as over 58 million of us went camping at least once in 2022.  That's a LOT of people.  Some people love to backpack, others car camp and many prefer to stay in an RV or a van.  If you are preparing for your first (or 10th) RV camping trip, we've prepared a checklist of exactly what to bring.
Needless to say, this isn't everything you need, but it's a pretty comprehensive list to get you started.  If you own your RV, it's a good idea to keep it pre-packed so the next time you want to hit the road, all you need to do is pack clothes and food. 
#1 KITCHEN ESSENTIALS:
Don't skimp on the quality of items you keep in your RV. Since the RV is basically a house on wheels, be sure to use the same tools that you enjoy in your own home. After all, why suffer just because you are cooking outdoors?
Camping in comfort
goes a long way in contributing to your joy on the road
. We also suggest using materials like stainless instead of plastic or teflon coated pans, stainless lasts forever, it's sturdy and it is not full of chemicals
Universal pan that is about 16" in diameter (stainless steel preferable - indestructible and no chemicals)
Medium fry pan 12" in diameter   (stainless steel)
Large stock pot  (stainless steel)
Coffee Pot or French press or stovetop percolator 
Electric tea kettle to boil water (this is a very convenient item to have)
Strainer ) 1 to 2
Set of stainless steel nesting bowls with lids 
Good chef's knife, you only need one
Large cutting board 
Small cutting board 
Stainless Flatware
Stainless steel set of plates
Stainless serving platter (1 to 2)
Stainless steel tumblers for hot and cold drinks with a lid
Heavy duty foil
Plastic wrap
Ziplocs or reusable storage bags 
Storage containers with lids (glass is better for storing food)
2 to 3 mason jars with lids (great for making salad dressings on the go or storing leftovers)
Scrub brush
Green Scrubbies (Cut them into 3 inch squares so the pack lasts longer)
Dish soap
Hand soap
10-20 kitchen towels (small and large)
Hot hands
Rubber gloves for cleaning 
Stainless steel scrub (either baking soda & vinegar or a brand like Barkeepers)
White vinegar for cleaning 
One Sharpie 
Masking tape 
Twist ties 
Paper clips 
Sharp Scissors
Small stapler (you never know when you need one)
Rubber bands
Salt, pepper and  your favorite seasonings 
Olive oil, avocado oil and other favorites 
Balsamic vinegar or your preferred favorite
Trash bags
Paper towels 
Water dispenser jugs (bring your own water on the road if you don't have a good filter installed, it's better than buying tons of water in plastic bottles every time you hit the road)
#2 OUTDOOR KITCHEN ESSENTIALS
-  There's nothing better than cooking outdoors!  But to cook outside, we suggest the below items as necessities to make the experience pitch perfect. 
BBQ tool set 
Your favorite stick to poke the campfire
Hot hands 
Picnic table caddy
Long lighter 
Fire starter, kindling and a fire stick 
Outdoor chairs 
Cozy blankets 
Head lamps 
Citronella candles to ward off bugs - NEVER BURN UNATTENDED  and put the top on when you are finished using the candle.
#3 CAMPING DOG ESSENTIALS 
- If you never leave home without your furry best friend, you need the below items for every camping trip, especially a long leash. All campgrounds that allow dogs require them to be on leash while walking and while at the campsite. To keep you and your dog happy, be sure to bring a long leash (20 feet) that also lights ups!
Dog water and food bowl that is only for the RV
Dog bed 
Dog hiking water bottle 
#4 HIKING ESSENTIALS 
Water bottles
Picnic backpack 
Swiss army knife 
Compass 
Small notebook and pen to write down your favorite hikes or activities 
Head lamp
Small first aid kit (be sure to include Benadryl in case someone is bitten by an insect and has an allergic reaction while on the hike, this can save someone's life)
#5 GENERAL SUPPLIES FOR THE RV
Bathroom cleaners 
Paper towels
Toilet paper
Tissue 
Bedding & pillows (always have at least 2 sets of sheets)
Bathroom scrub brush 
Personal Cosmetics 
First Aid Kit
Black tank treatment
Disposable gloves
Hand sanitizer 
Pens, sharpies, notebooks, markers, scratch paper 
Phone and computer chargers 
Set of tools 
Rope
Zip ties 
Ratchet straps 
RV levelers 
Level
Extra batteries 
Fire extinguisher
Think we forgot something? We'd love to hear your ideas, please email us at newsletter@litoluxury.com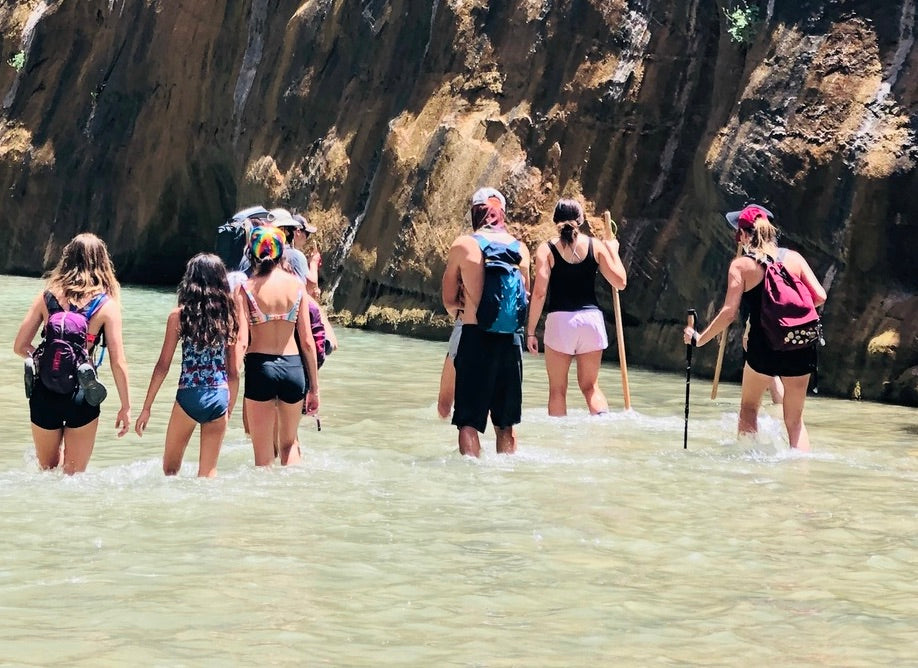 The Health Benefits of Camping and RVing
Written By: Carol Carimi Acutt It may be surprising to some, but camping is actually healthy! There are a myriad of reasons of why camping is a necessary part of life, but for our health? Check ou...
Read more