8 Easy Camping Meals and Snacks Kids Love (Adults Too!)
By: Maya Acutt
When planning meals for camping, it's easy to just buy instant ramen noodles in bulk and call it a day. However, there are so many fun and easy meals you can appreciate making in the great outdoors that your kids are sure to enjoy! You don't have to make gourmet food for a healthy and delicious meal - just keep it simple. After all, everything tastes better in nature! 
As a kid, I loved going camping (and still do) not just for the adventure but also for the food. My friends and I would roast marshmallows and hot dogs over the fire, help our parents make sandwiches for that day's hike, and would even ride our bikes to the camp store every now and then for a little treat. Here is a list of some potential meals that your young campers are guaranteed to love:
Spaghetti bolognese 
I love this meal at home, but eating it while camping is even better! Although you can go as complicated as you like, you only need a few essentials: pasta, bolognese sauce (that you can easily get from your local grocery store) and maybe some seasonings!
 Pesto pasta
Pesto pasta is one of the most underrated pasta meals, in my opinion. Again, all you need is pasta and some store-bought pesto (or made from scratch if you're feeling adventurous), parmesan to sprinkle on top and you're good to go!
 Hot dogs over fire
Roasting hot dogs over the fire is not only a meal, but it's also a fun activity! If you have hot dog roasting sticks, your kids can make their own meal from a safe distance from the fire. Roasting hot dogs always tastes better than boiling them, in my opinion - and all you need aside from the hot dog itself is buns and some condiments (mustard, ketchup, etc
Shrimp tacos
Shrimp tacos are super easy because shrimp only takes a few minutes to cook! All you need is some seasoning and tortillas, along with a yummy salsa and sour cream. Your kids will love it!
Beef tacos with guacamole and chips
Beef tacos are delicious, and aren't too hard to make out in the wilderness. A great appetizer is guacamole and chips - making the guacamole is a great activity for your kids, as well!
Cheese appetizer plates before dinner
If your kids need something a little extra to hold them over until dinner time, you can easily assemble a cheese plate with some simple cheeses and crackers (so that they don't bother you while you're cooking)
 Hamburgers over fire
If you want to incorporate the firepit into your meals more, a great option is barbecuing hamburgers over the fire! Simply use the grill over the fire pit, first line it with foil before you start the fire and you are ready to cook.
Snacks that kids love to eat while camping
Snacks are always important when camping - you don't want to be caught hungry on a hike without provisions! If you're going to be out during lunch time, I recommend bringing sandwiches. But, if you just need some snacks, berries or cut up apples or pears (no bananas, they always get smooshed), sesame crackers, pretzels & pub cheese, dried fruit, cheese sticks or cucumbers are some of my favorites  (just remember to clean up after yourself for the wildlife!). 
Most importantly, don't sweat the small stuff, because when kids are camping, that means they are definitely having fun. Be sure to take your waterproof outdoor tablecloth to add style & cleanliness to your campsite picnic table.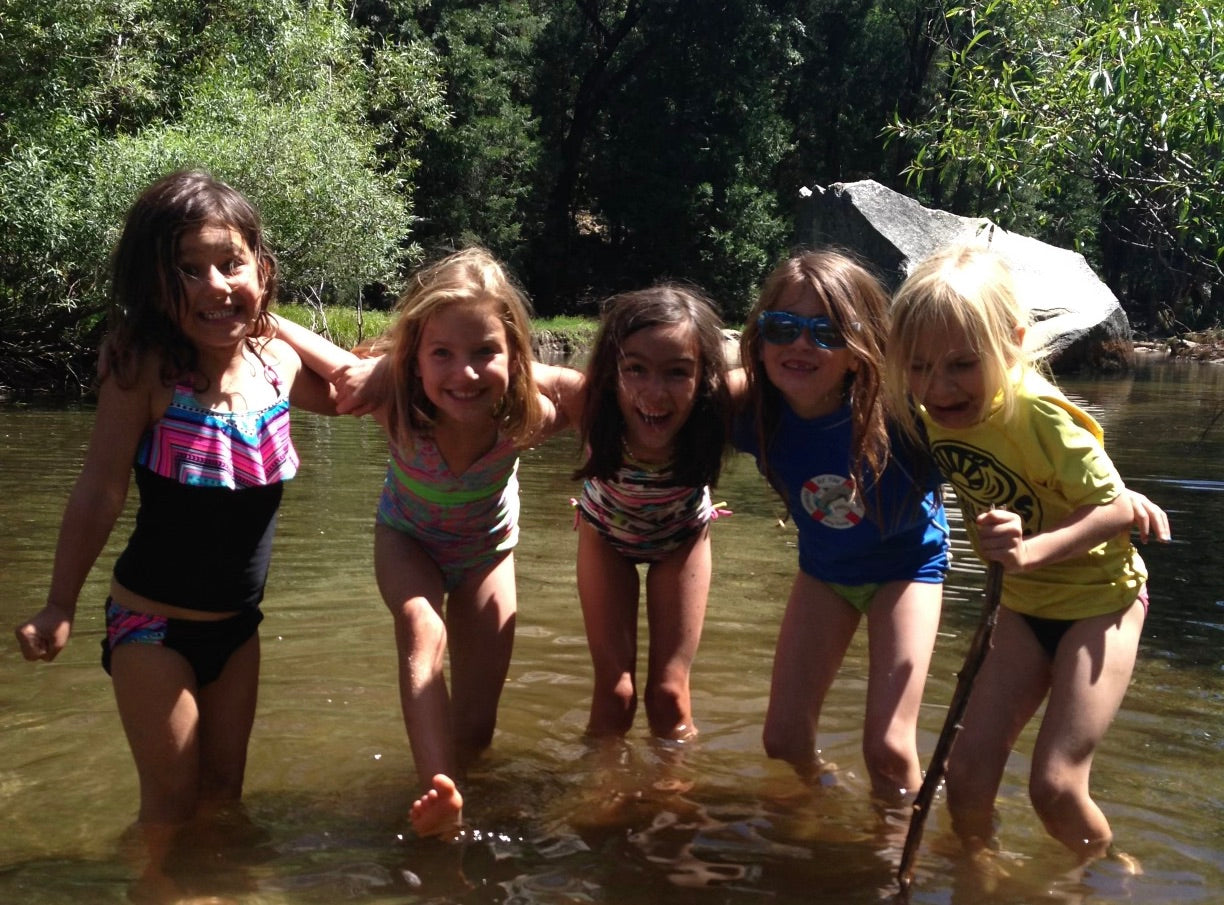 I Am a Camping Kid and I'll Tell you Why Camping is GREAT for Kids. By Maya Acutt I have been camping ever since I can remember. One of my first memories is of a camping trip that my family took t...
Read more
3 Spring Tequila Cocktail Recipes
By Carol Carimi Acutt After a long winter, spring is a welcome change. Flowers begin to emerge, birds begin to sing and the sun warms the days.  It's a time of rebirth, rejuvenation and sometimes s...
Read more